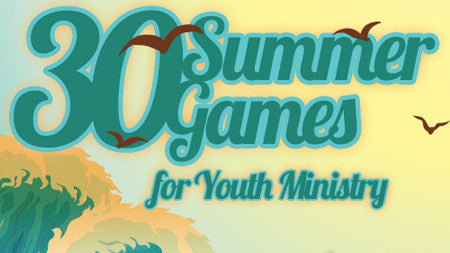 ---
Use these 30 summer games for your junior high ministry! They're insanely fun, crazy, messy and perfectly crafted for summer. Use them for summer camp, summer event, Sunday school, midweek services, etc. Not only are the games crazy fun, but each game also includes a quick lesson and engaging discussion questions.
This product, like all our resources, is a download item.
View a Sample
View or download a sample of one of the summer games. Simply click the "download sample" button below.
30 Summer Games Overview
Angry Leaders | Topic: Angry Words | Matthew 5: 21-22

Art Class | Topic: Beauty or Appearance | 1 Samuel 16:7

Baby Food Baseball | Topic: Character | 1 Samuel 16: 7-12

Blow & Grow | Topic: Honesty | Timothy 1:7; 2 Corinthians 8:21

Bucket Filler | Topic: Messing Up | Colossians 3:13; Hebrews 4:16

Bun Length | Topic: How to Treat Others | Philippians 2:1-4

Chicken Noodle Soup | Topic: Inspiration of Scripture | 2 Peter 1:19-21

Condiment Creations | Topic: You are fearfully and wonderfully made. | Psalms 139:14

Cool Aide Gummy Dunk | Topic: Valuing Others | Psalm 139:13-16

Flip Flop Hop N Drop | Topic: Evangelism | Romans 10:14-15

Flip Flop Toss | Topic: Being Different | Proverbs 1:15

Frozen Legos | Topic: Patience | Bible: 2 Peter 3:9

Giant 3 Legged Soccer | Topic: Unity in Christ | Ephesians 4:2-6

Hungry Games | Topic: Blessings | Luke 6:38

Launch & Catch | Topic: Listening & Reacting | James 1:19

Orders Only | Topic: Focus on God | Philippians |1 Thessalonians 5:20-22

Pass the Cup | Topic: Distractions | Luke 10:38-42

PopSICKles | Topic: Taste and See the Lord is Good | Psalm 34:8

Sad-Minton | Topic: God's Power | Acts 1:8

Sand Worms | Topic: God's Word | 2 Timothy 2:15

Scoop Ball Lacrosse | Topic: Sin | Romans 2:22-24

Shooting Gallery | Topic: Acceptance | John 4:1-34

Silly Sloppy Slingshot Scramble | Topic: The Good News | Matthew 28:18-20

Slp N Slide Slapshot | Topic: Failure | Proverbs 24:16

Snorkel Suck | Topic: Thirsty for God | Psalm 42:1-2

Toilet Seat Croquet | Topic: God's Way | Matthew 7:13-14

Top Shot | Topic: Overcoming Failure | Philippians 4:4-7

Tranquilizer Dart | Topic: The Church | Ephesians 2:20-22

William Tell | Topic: Stress | John 14:27
---
Share this Product