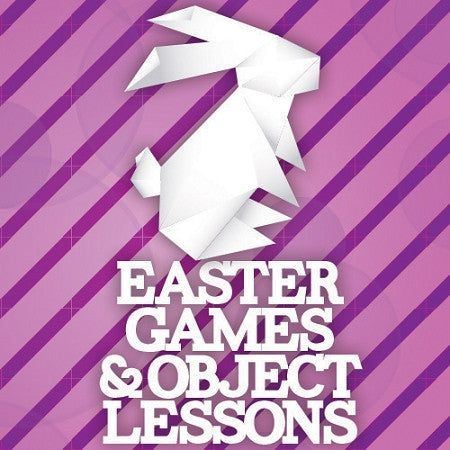 Easter Games & Object Lessons
---
15 Easter Games & 15 Easter Object Lessons
This product, like all our resources, is a download item.
All specifically designed with junior highers in mind and bundled together in one package.
Object lessons & games are great additions to your event programming and can be added to any upcoming lesson, event, small group time, mid-week service, message, etc. Perfect to fill in the gaps of your Easter programming! 
All the object lessons are related to Easter items and are powerful visuals to drive home Biblical points. 
All the crazy, fun games included are related to Easter themes and are "just for fun" activities that setup Easter messages. 
15 Easter Games Include
Bunny Ring Toss Relay - Romans 12:2
Bunny Hop Drop - John 13:34
Decorate the Human - Jeremiah 29:11
Easter Story Guess Who - Hebrews 4:12
Egg Ball - Philippians 4:13
Egg in the Hole - James 1:2-4
Fill the Easter Basket Relay - Proverbs 3:5-6 
Guess How Many Jellybeans - Psalm 9:10
Human Easter Egg - Isaiah 53:5
Jelly Belly Spin Off - John 14:15
Lost & Found Easter Egg Puzzle - Luke 19:10
Musical Easter Skit - Colossians 3:14-17
Peeps Stack Up - Ephesians 4:29 
Squish the Eggs - 1 Corinthians 10:13 
Ultimate Egg Drop Challenge - 1 Peter 5:7 
15 Easter Object Lessons Include
Easter Eggs - Romans 3:23
Spring Flowers - John 3:16 and Romans 5:8
Sunrise - John 8:12
The Stone - Matthew 28:1-4
Water - Matthew 28:19
Easter Peeps - 1 Corinthians 5:7
Bunny Suit - Philippians 2:8
Nails - Romans 4:25
Spring Rain - Isaiah 43:25 & Psalm 103:12
The Gift - Galatians 1:4, Luke 23:46
Claim Your Prize - Ephesians 1:7
Butterflies - 2 Corinthians 5:17
Easter Basket - Galatians 5:22-23
Jelly Beans - Matthew 7:16
Chocolate Bunnies - Matthew 28:19 and 1 Corinthians 9:22
---
Share this Product