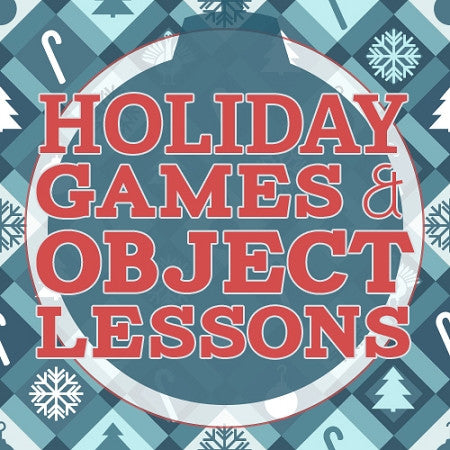 Holiday Games and Object Lessons
---
Use these 30 games and object lessons in your junior high ministry for Thanksgiving and Christmas programming.
This product, like all our resources, is a download item.
These are great additions to your holiday programming and can be added to an upcoming lesson, event, small group time, mid-week service, message, etc.
Perfect to fill in the gaps of your holiday programming!
All the games include a mini-lesson on topics related to Thanksgiving and Christmas. In fact, if you add some of your own content, each game could be used as a foundation for an entire lesson.
15 Games Include:
Thanksgiving Games
Blindfold Turkey Bowl
Crowd of Thankfulness
Giant Turkey vs Pumpkin Tic-Tac-Toe
Marshmallow Oatmeal Dip
Pumpkin Turkey
Christmas Games 
Christmas Guess Who
Christmas Salad Bowl
Decorate the Christmas Cookie Feet
Decorate the Human Christmas Tree
Giant Toy Store Christmas Game
Human Candy Cane
Obstacle Course Sled Relay
Ugly Christmas Sweater Dance
Who's Wearing Santa's Pants
Winter Dressin' Relay

15 Object Lessons Include:
Thanksgiving Object Lessons
Acorns: Our faith may start small, but through Christ we have mighty potential.
Corn: When we don't take care of sin in our life quickly, the problem only gets worse.
Leaves: There is a season for everything.
Pie: They will know us by our fruit.
The Big Table: Followers of Jesus will one day get to be a part of the greatest fest in history!
Christmas Object Lessons 
Candles: We are meant to shine for Jesus
Candy Canes: We need to stay constantly connected with God if we want good "Breath."
Christmas Cookies: God uses every event in our lives for a purpose.
Gingerbread Men: God put everyone together uniquely – exactly how He wanted each of us!
Gloves: Authority in in place for our protection.
Hot Chocolate: Once God changes you you're never the same again.
Icicles: Our environment matters.
Sled: God loves to use people in unexpected ways.
Snow: God's forgiveness can cover every sin.
Wrapping Paper: Don't judge God's abilities on what seems possible to the world.
---
Share this Product