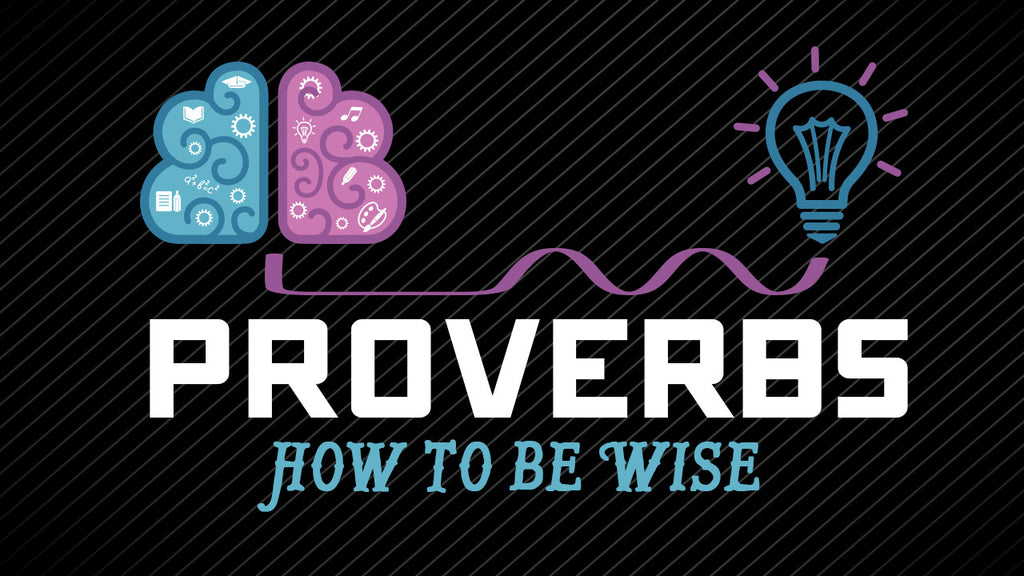 ---
The Book of Proverbs is an 8-week series on how to be wise.
This product, like all our resources, is a download item.
When students think of "wisdom", the image of an old man with glasses and a mustache might pop in their heads.
It's easy for them to miss the fact that "wisdom" is simply understanding how God wants them to live and then doing it.
Students need to know that being wise is something worth searching for and Wisdom is attainable.
Why is wisdom important? Because teenagers...
Live in a world that encourages bad decision making.
Need help navigating friendships, especially when those relationships negatively influences them.
Are making life choices that will affect their future.
The good news is that God gives us a "how to" manuel on wisdom in the book of Proverbs.
That's why we created The Book of Proverbs series – to help students discover "how to be wise".
Series Overview
Week 1: Wisdom: The purpose of Proverbs.
Bible: Proverbs 1:1-7
Bottom Line: Wisdom equals understanding.
Week 2: Trusting God
Bible: Proverbs 3:5-6
Bottom Line: Wisdom helps you trust God.
Week 3: Communication
Bible: Proverbs 10:31-32
Bottom Line: Wisdom helps you to honor God when you speak.
Week 4: Relationships
Bible: Proverbs 13:20
Bottom Line: Wise Relationships help you to honor God
Week 5: Pride or Humility?
Bible: Proverbs 16:5; Proverbs 16:18; Mark 10:43; Proverbs 11:2
Bottom Line: Wisdom helps you to be humble.
Week 6: Wisdom Stops Sin
Bible: Proverbs 5:21-22; Proverbs 8:33-36; 1 John 1:9
Bottom Line: Wisdom helps you see your sin.
Week 7: Serving Others, Serving God
Bible: Proverbs 17:17; Philippians 2:1-11; Luke 22:41-42; Matthew 14:25-31; 1 Peter 4:10-11
Bottom Line: Wisdom helps you understand why it's important to serve others.
Week 8: Happiness From Within
Bible: Proverbs 3:13-18; Ecclesiastes 2:10-11; Ecclesiastes 2:26; Nehemiah 8:10
Bottom Line: Our growing wisdom brings God happiness.
What You Get
A total of 8 weeks of lessons (Word & PDF)
Series artwork for making your own slides
Fun opening games
Creative teachings
Small group activities
Engaging discussion questions
---
Share this Product
---
More from this collection